Universal Arca-Type Plates
Universal Arca for all types of cameras
Gunmetal 40mm
Black 40mm
32g / 1.1oz
$9.99
Gunmetal 60mm
Black 60mm
46g / 1.6oz
$15.00

Gunmetal 85mm
Black 85mm
40g / 1.4oz
$20.00
Essential Features
40MM: Designed for mirrorless cameras from Leica, Sony, Olympus and Fuji.
60MM: Designed for SLR cameras from Canon and Nikon.
85MM: Designed for telephoto lenses, from 200mm and above.
If your camera plate is only allen key compatible or if you're still using the cheap one that comes with your tripod head, get this Arca-type plate and feel the difference in quality and usability.
We've included a weather-resistant zippered accessories bag designed to fit 50mm 1.8 lenses, camera batteries, lens cloths, hard drives, shutter release cables and lots of other field gear.
We guarantee this Universal Arca-type Plate is compatible with every in-spec Arca-type tripod head ever manufactured, or your money back.
NOTE: One customer has told us that our Universal Arca-type Plates do not work with all RRS tripod heads - meaning RRS uses some kind of proprietary dimensions, not universal. You can buy one and if it doesn't work, take us up on our 300 day return policy.
Precision Machined. Unrivaled Quality.
Our Universal and Limited Edition Arca-Type Quick Release Plates are CNC machined from aluminum 6061 with a high-strength stainless steel 1/4"-20 screw that can be tightened by hand, with an allen key or even a coin. Never be left out in the field with a loose tripod plate again.
Ultralight Arca Plates
Limited Editions, Made in USA
Canon R6 / R5 / R ARCA
Ultralight, Made in U.S.A.
Limited Editions of 100
18g/0.63oz
$79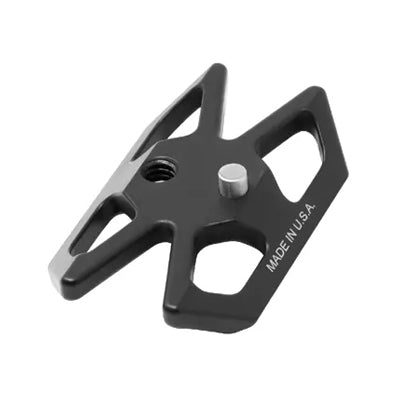 Nikon Z7 / Z6 ARCA
Ultralight, Made in U.S.A.
Limited Editions of 100
16g/0.56oz
$79
RED KOMODO ARCA
Ultralight, Made in U.S.A.
Limited Editions of 100
26g/0.92oz
$79
Limited edition. Customized fit.
Our Limited Edition Arca-type Plates are manufactured in the USA for a select set of cameras. Each plate is machined from aluminum 6061 with an anodized finish and features an ultralight design that doesn't compromise strength or rigidity. The custom plates have locating pins or secondary screws which eliminate any unwanted rotation or wobble for a completely secure fit. Compatible with any clamp that accepts Arca-type quick release plates.
Canon R6 / R5 / R ARCA: Designed for Canon R6, Canon R5 and Canon R cameras.
Nikon Z7 / Z6 ARCA: Designed for Nikon Z7 and Nikon Z6 cameras.
KOMODO ARCA: Designed for RED Komodo Cameras.